WELCOME . . .


2019 Sale Bulls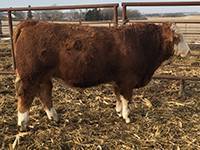 [Click Image For More Information]
NEW TO
S/M FLECKVIEH CATTLE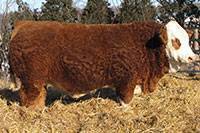 [Click to View Video]
Sibelle Arthur 39B, purchased from Ferme Sibelle Fleck, Lavrar, Quebec. 200 day weaning weight 907, yearling weight 1613, 11 month scrotal measure 41 cm. He is loose-made, full of muscle, strides out smooth and correct, moderate in his frame but massive in his capacity. We are REALLY high on this new guy! Look for Arthur's first calves in 2016>
S/M Fleckvieh Cattle is a select program of first quality Fullblood Fleckvieh Simmental cattle. Through the beef industry's swings in size and style, in years of good grass and in drought, in tough markets and in today's record prices – these moderate, easy-keeping, practical beef cattle have always worked very well.

A Forty Year Program

We began breeding Simmental cattle in 1975. In the late 80's when most cattle of all breeds had lost their practicality, we found Fleckvieh cattle prospering under range conditions at Arnold Brothers, McIntosh, South Dakota. We began our first Full Fleckvieh cow family from there in 1988, and these useful cattle have been our only program ever since.
Our Breeding Goals
We breed for economic traits that add to the bottom line. Then we treat them like commercial cattle, under conditions like our customers run their cattle. That way, what you see phenotypically is what you get genetically.
By type – moderate framed, big-volume, deep-fleshed cattle that are soggy, long and thick-thick-thick.
Calving ease – both direct and maternal – in a range that works under commercial conditions.
Females – tight udders and small teats, feminine, sound feet and legs, with the depth and barrel to thrive on South Dakota grass and corn-stalks.
Disposition – completely docile and easy to handle.
Polled – as one of several important economic traits.
By style – dark red with lots of protective pigment.
Fullblood Fleckvieh
We breed Fullblood Fleckvieh cattle. All of their ancestors trace to Original Fleckvieh in the herdbooks of Germany and Austria (see
The Fleckvieh Advantage
). This maintains bred-in consistency and offers added "pop" from hybrid vigor.
Polled Fleckvieh
In 1992 we introduced the polled gene from mutation polled Full Fleckvieh cattle. Unlike many programs, we breed our polled females to the very best proven horned sires (see
Sires
). We don't get as many polled calves this way, but are they good! Our younger females are now 4-5 generations removed from the source of their polled genes. It's expensive to breed this way. It takes years. But these are better cattle because we do so.
Cow Families
We have found the very best cow families to be highly dependable. So we build cow families based on elite foundation females from those families. Most of our herd is descended from just six of the breed's greatest matrons: ABR Miss Arnold H9003, ABR Miss Arnold J9018, Dora Lee Franchesca, MFL Zaila 8Z, Anchor "T" Helga 10Y, and EDC Poll Magnum 1B (see
Females
). Our cowherd is closed at the top, meaning that we breed for great females, and the best of each generation of females rolls back into our herd to further improve S/M Fleckvieh Cattle, generation on generation. Then we sell a select number of breeder bulls that will produce these kinds of females for our customers.
Linebreeding
We have also found a small handful of sire lines to excel in the most important performance traits and have begun linebreeding those sire lines with our superior female lines. Our two main AI sires, from these lines, currently rank number one and four (in the breed) among active Fullblood sires for the All Purpose Index (API).
How are the Cattle Available to You?
S/M Fleckvieh Cattle are sold by private treaty (see
For Sale
). We like to grow the bulls out to ensure that they are sound and will perform, but they can be reserved first-come beginning after weaning each fall. Heifers that don't make our breeder pen are available at weaning (and are usually spoken for early). Semen on our herdsires is available as well.

Come Visit. Give a Call!
We would love to talk about your program, and ours, the future of our beef industry, and how we can breed for profit in the years to come.
Sincerely,
Jeff Sorenson
S/M Fleckvieh Cattle
Jeff and Siri Sorenson
48186 257th Street
Garretson, South Dakota 57030
605-359-8728 or 605-594-3789
sorenson@augie.edu